Most factories are equipped with biomass fired boilers using coal, rice husk, bagasse, etc. Huge quantity of burnt biomass and partially unburnt Fly Ash is generated in boilers which escapes in the flue gases into the air. The quantity of the flue gas emission has to comply with the norms of the Pollution Control Boards. Recently, several cases have come to light wherein factories in India had to shut down due to the problems caused by excessive fly ash escaping from boilers and due to stringent Government enforcement. The impact of this pollution causes significant damage to the environment and is quite detrimental to the health of human beings.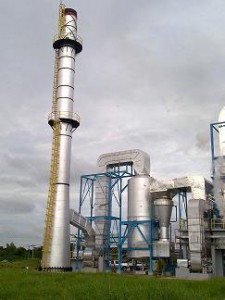 In view of availability of in-house design & engineering expertise and fabrication facilities, we undertake turnkey projects from concept to commissioning to achieve the desired objectives.
We have designed and supplied efficient Fly Ash Collectors which include a Fly Ash Arrestor, Venturi Scrubber and Cyclonic Type Wet Dust Collector which effectively arrests 97percent to 99percent of particles and brings down the final exhaust emission level not exceeding 100 mg/Nm3 as our performance parameter which is significantly below the norms stipulated by the Pollution Control Boards.
Typically , Venturi Scrubbers are applied where it is necessary to obtain high collection efficiencies for fine particulate matter.Thus , they are applicable to controlling emission sources with high concentrations of sub micron particulate matter.The venturi throat is set to operate at desired pressure drop for highest collection efficiency Scrubbed gases then make a 90 degree turn and enter a coclonic scrubber where separation of the gases and free liquid droplets takes place.The slurry is discharged through the bottom and dewatered scrubbed gases are exhausted vertically via the top outlet.
Our Fly Ash Collector, is installed before or after the ID fan of the boiler for exposing cent per cent of flue gas. The unit can be conveniently installed in the existing system with minor changes in ID fan ducting to achieve and maintain an absolutely clean and pollution-free environment in and around the factory.
Application Industries.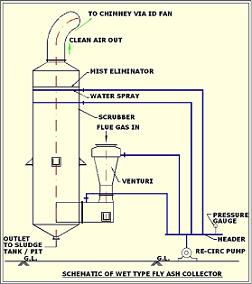 This system is EFFECTIVELY used for COAL DUST FROM CRUSHER HOUSE, LIME DUST,SUGAR DUST ,CARBON BLACK FLUE GAS FROM ROTARY KILNS,TORCH CUTTING FUMES, INDUCTION FURNACE ,SPONGE IRON PLANTS,ALUMINIUM CHLORIDE DUST AND VAPOURS , CEMENT KILN,CHLORINE ,HCL ,ZINC OXIDE DUST, MINERAL , PIGMENT , WAX
,
SILICA , RESIN DUST & AMMONIA SCRUBBING.
Can be operated with variable flow conditions.
Compact size.
No moving parts.
Emission control is very consistent.
Can handle mists.
Trouble free operation.
Has an ability to remove SO2.
Can collect sub-micron as well as coarse particles.
Higher efficiency than conventional designs.
Tolerates very high dust loading .
Simple in design and easy to install.
Collection and disposal of dust is easy because the dust collected is wet and cool.
Superior design removes all mist from gas resulting in almost zero carryover.
Low pressure drop implies energy saving.
To enable us to send proposal kindly furnish the following data :
Boiler Details
Make__________________________________
Capacity ton/hr___________________________
Fuel used _______________________________
Flue gas temp OC___________________________
Dust in Flue gash mg/N cu m__________________
ID Fan Details :
Capacity CFM/CMH ________________________
Fan Speed (RPM)
Head mm WG (Static Pressure) _________________
Inlet duct size mm __________________________
Motor HP ________________________________
Motor Speed RPM ___________________________