Our Export Quality Hydrocyclones are made using high quality stainless steel to successfully remove cent per cent grit and provide Milk Of Lime (MOL) in complete colloidal form. The concentrated grit slurry can be diverted to a spray pond for pH control, which is an added advantage of the system.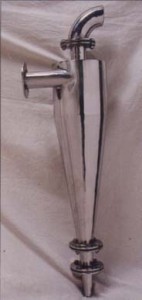 The unit is guaranteed for trouble-free and smooth performance for a minimum of 3 seasons. There are no moving parts and all its internals are made of superior quality, high abrasion, nickel chrome steel which are precision machined for efficient working ensuring almost zero maintenance. Similar units have been supplied by us to a number of sugar factories in India, all giving excellent results.
Our continuous development has resulted in an improved design which incorporates nickel chrome body, flexible apex nozzle, body buffed to mirror polish and improved metallurgical aspects. We use stainless steel in 6 mm thickness along with a heavy section of high abraison-resistance steel to minimize wear & tear and achieve trouble-free performance for a minimum of 3 seasons with zero maintenance costs during the crushing season.
The improved version ensures 100 percent removal of fine grit / silica sand upto even 3 microns to obtain MOL in complete colloidal form.