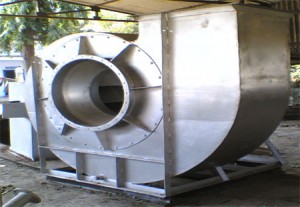 We are industrial Air Movement Professionals, designing and manufacturing air movement devices. Our products aid processes and move air streams of all types with efficient and effective exhaust systems critical to plant operations.Blowers and Fans ,suitable for Scrubbers,Bag Filters and others allied equipment must all be carefully designed, fabricated and installed to ensure efficient operation. Products that are used in modern industrial processes often have to meet specific performance, reliability and safety requirements. Our commitment to quality insures our customers receive the maximum value for their money. Our commitment and the maximum value for their money.Our commitment and ability to solve your air pollution control problems has made ability to solve your air pollution control problems has made Sweetech Environs the leader in the fields of Air Pollution Control Technology.
Sweetech fans are designed to exhaust corrosive air in chemical environments.The fans are also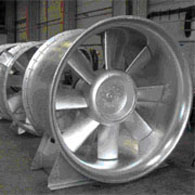 designed to operate in hazardous areas.Self-cleaning,backward curve impellers ensure high fan efficiency is maintained despite particulars in the air stream and reduce periodic maintenance and downtime. In addition the fans are constructed with increased service factors for improved life and reliability.
Our centrifugal fans provide optimum performance with minimal interruption and meet the need for greater volume capacity within the physical envelope of the fans. Housing and impellers are manufactured from Premium-grade material. Clockwise or counterclockwise rotation in all discharge positions is available. We have developed a wide range of types offering the right fan for any application, and offer standard models and specifically designed models to meet given installation requirements or for integration into existing systems. The fans are available with capacities from 500 cfm to 150,000 cfm. Materials are selected in compliance with the individual application, either galvanized, painted, FRP lined or stainless steel. Impellers are statically and dynamically balanced as per relevant standards.
Features
Unique airfoil blade, direct / belt driven, industrial quality, high pressures & volumes, precision blade moulding, blade configurations & piches, stringent testing procedures, optimum aerodynamic charcteristics, high degree of efficiency, smooth running, robust construction, for use under extreme conditions.
Accessories
Common base frame
Set of belts with guard
pulley / direct coupling
Data required
Volume (flow rate) -cum / hr
Temperature – deg C
Static pressure of fan – mm WG
Medium handled