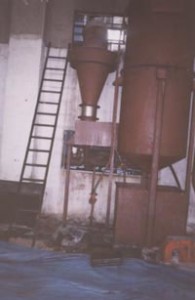 Sugar dust is one of the major pollutants in sugar industry and causes substantial loss in revenue as the final product is dispersed in the air. We offer a sugar dust collector which is designed to suit the existing drier house & prevents air pollution to keep the environment clean. The dust collection system prevents the presence of fine particles in the air and maintains the factory area free from dust. This also ensures safety by keeping the zone free from damage to machinery like motors, gears and bearings and prevents fire hazards.
On-line dust collection system works continuously using efficient suction hoods located near the dust zone. The dust collected by the dust collector is transferred to a separate unit by a central network of ducting. The dust is then dissolved in water before it is again transferred to the sugar melter.
Dust collection system will collect about 120to 150 kgs of sugar dust per 1000 bags per day.This ensures recovery of the cost of the system in less than one season of operation.
The system consists a cyclonic wet scrubber with water spraying arrangement . The Dust enters a venturi & dissolves in water which is following along the wall of the venturi. The sugar solution enters a scrubber in a cyclonic path. Clean air rises to rises to the top of the scrubber by a centrifugal fan. The sugar solution enter a tank below the scrubber and is recirculated by a pump. Sugar solution is transferred to melter after attaining 15 to 20 Brix maximum. This may be done once in a shift.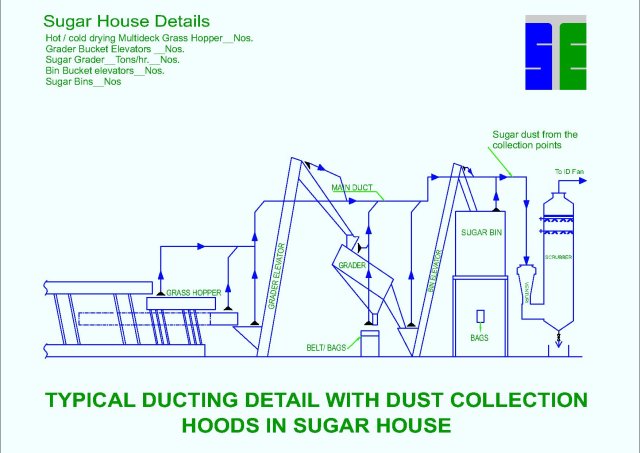 To enable us to send proposal kindly furnish the following data :
SUGAR HOUSE DETAILS:
Hot / cold drying Multideck Grass Hopper_Nos.
Grader Bucket Elevators_Nos.
Sugar Grader_Tons/hr_Nos.
Bin Bucket elevators_Nos.
Sugar bins_Nos.