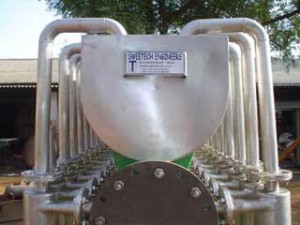 The presence of bagacillo in mixed juice darkens the juice color and consumes more steam and chemicals during processing and also leads to poor quality sugar. Use of Hydrocyclones to remove bagacillo has proved to remove 100percent grit and 50percent to 70percent fine bagacillo which generally escapes from the DSM / Rotary Screen. This system successfully separates grit and bagacillo approximately amounting to 5000 kgs for a typical 2500 TCD plant. This bagacillo is added on to the bagasse blanket everyday which otherwise is being removed by the rotary filter after going through complete boiling and clarification process.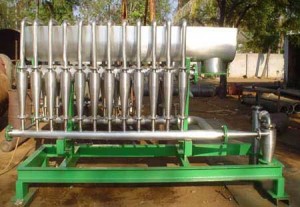 This simple unit which is manufactured in stainless steel can be conveniently installed at the Mill House / Boiling House / Weighing scale.
The unit has almost nil maintenance due to the absence of moving parts.
Mixed juice to the first stage cyclones enters through an inlet header to the battery of cyclones.
The muddy juice containing grit and cush-cush is taken out from the underflow of cyclones in stages. It is then finally sent back to the mill for further extraction.
Guarantee
The unit is guaranteed for trouble free performance and against any manufacturing defect for 3 working seasons.
To receive our offer, please contact us with the follwing information about your plant:
Crushing capacity (TCD)
Bagacillo in mixed juice (g/litre)
MJ pump capacity (Cu m/hr)
Head (M)
Motor (HP)