Sweetech is an air polution design engineering company supplying unique solutions, products and technical service to improve quality of air, Important as quality of the final product is in most industries, an environmentally friendly plant has become a necessity from both a regulatory and marketing viewpoint. Bag filters are one of the most efficient and cost effective types of dust collectors available and can achieve a collection efficiency of more than 99% for very fine particulates. Because of the wide range of available fabric filter media, the bag filter has proven that it will remain a prime player in the worldwide quest for cleaner air.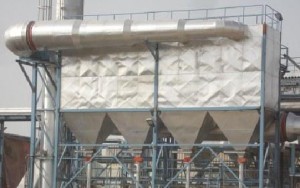 The Sweetech Bag filter is a high quality collector with lower pressure drop, promotes longer bag life and greater air volume, reduces leaks, downtime and labour costs as well as the amount of compressed air needed. Our experienced design gives special attention on selection of Bag Filter fabric, keeping in mind the type & nature of dust, dust load, temperature of gas, emission level, atmospheric condition, etc. We design almost any size to suit an available location or process, and its ability to work in almost any reasonably dry dusty atmosphere is remarkable. The system can withstand a lot of abuse and still carry on operating within design specifications. Maintenance is relatively cost effective if the machine is serviced on a regular basis. The design allows quick response to changes in operating conditions, variations in production needs, and human error.
Dust-laden gases enter the bag house and pass through fabric bags that act as filters. The bags can be of woven or felted cotton, synthetic, or glass-fiber material in either a tube or envelope shape. The high efficiency of these collectors is due to the dust cake formed on the surfaces of the bags.
Performance Guarantee
Collection efficiency of more than 99% of 1 micron and larger Particulates
Exhaust emission level in range of 50 mg / N cu.m
Application Industries — Effective for control of-
PARTICULATE EMISSIONS FROM BOILERS/FURNACES, SPONGE IRON PLANTS STEEL RE-ROLLING MILLS, COAL DUST FROM CRUSHER HOUSE, LIME DUST, SUGAR DUST, CARBON BLACK FLUE GAS FROM ROTARY KILNS, CEMENT KILN, FERTILIZER, PHARMA & PESTICIDE INUSTRY, TORCH CUTTING FUMES, ALLUMINIUM CHLORIDE DUST & VAPOURS.